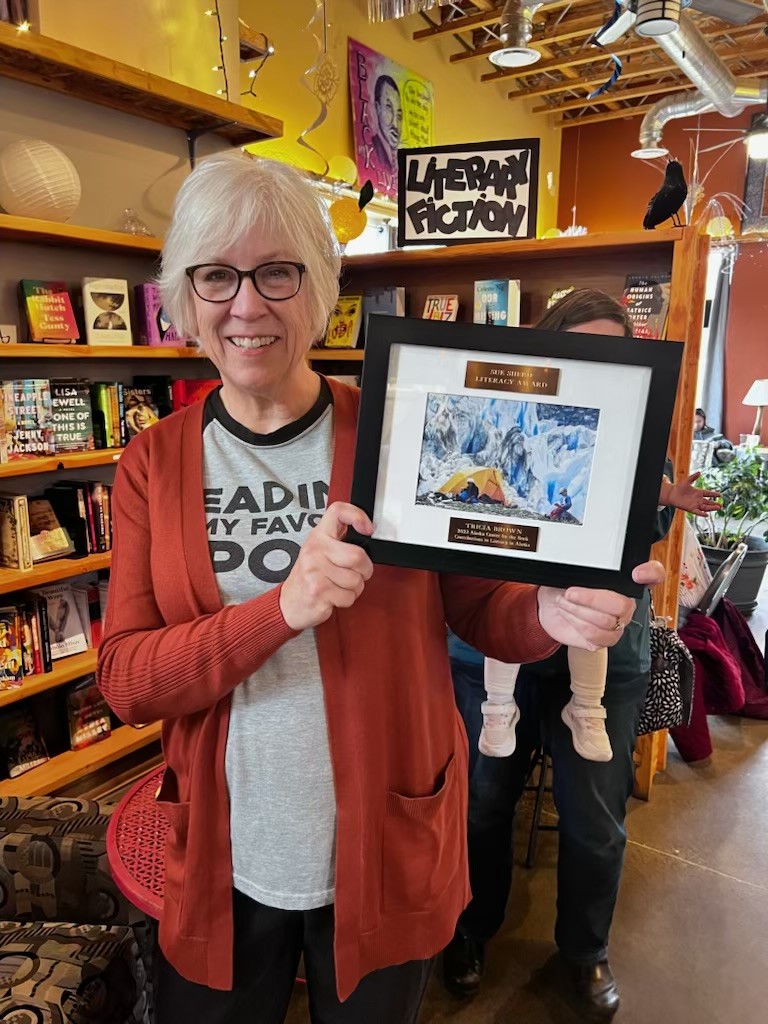 Alaska Book Week launched its kick-off event Sunday, October 1, 2023, at the Writer's Block Bookstore & Cafe in Anchorage with a five-person panel of authors talking about their works in progress and reading. But before they got started, Patience Frederiksen, board chairman of the Alaska Center for the Book, graciously handed out three awards to us CLIA award-winners. The CLIA stands for Contributions to Literacy in Alaska, and the board has been designating winners for the last thirty years. I'm honored to be among them and to receive the special award remembering Alaskan children's librarian Sue Sherif, who is sorely missed.
I especially loved seeing that this award includes a fine photograph of two children camping and reading near a glacier. I remember it well as an image in the book My Denali, and photographed by Roy Corral. Those are his children, now grown. Roy and I partnered on my first children's book back in 1998, and many more afterward. I had to write Roy to recall all the fun creative work we've done together. So much talent in this state!
Still ahead in Alaska Book Week, I will be among a small group of children's book authors reading and signing our books at Title Wave Books on Northern Lights in Anchorage. We are all members of the Alaska chapter of a national organization (actually, international) called the Society of Children's Book Writers & Illustrators. Come down to see me, Brooke Hartman, Barbara and Ethan Atwater, and Matthew Lasley. We'll have some crafty activities for the kids at various tables, too. Join us between 11 and 2 p.m. on Sat., Oct. 7.