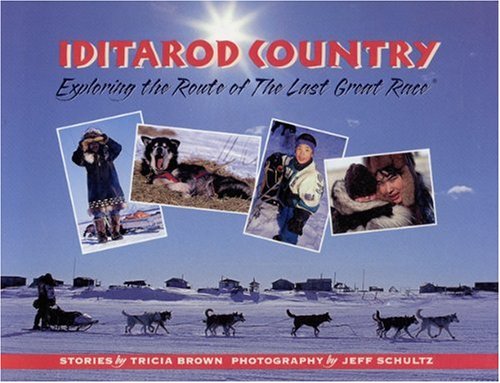 By Tricia Brown
Photography by Jeff Schultz
Epicenter Press, 1998
Out of print, but used copies are available
64 pages, hardcover, 8.7 x 6.6 x .4 inches
ISBN-10: 0945397666
ISBN-13: 978-0945397663
The welcome mat is 1,100 miles long when the Iditarod Trail Sled Dog Race crosses Alaska each March, passing through remote Native villages and deserted mining towns. Most fans see little more than the exciting send-off in Anchorage and the thrilling finish in Nome, yet between them lies the very heart of the race. "Iditarod Country" introduces the fascinating places and people along the trail, a land of cold noses and warm hearts.
Takotna, a village of 70 people, treats mushers to a meal of Kodiak king crab and moose stew … Ophir is a tent stop run by the owners of a nearby cabin … Iditarod is an old ghost town and the halfway point on the race's southern route … and Unalakleet, a major hub on the Bering Sea coast, awards its first arrival $2,500 in gold nuggets.
School Library Journal:
Grade 6 Up – A unique glimpse at the people, places, and spirit of the Last Great Race. The full-page, double-page, and thumbnail-size crisp, full-color photos complement the short, information-packed, readable stories. The text and visuals highlight the remote villages, hundreds of volunteers, tidbits of race history, and humorous Iditarod lore, providing readers with a hint of what it's like to spend time at the checkpoints along the trail. A map shows the route. Unfortunately, no other maps are included so it's necessary to return to this one to follow the sequence of the checkpoints. Brown offers a different perspective on Alaska's history, geography, remoteness, native culture, and bush lifestyle that is usually overlooked in geography books. Bill Sherwonit's Iditarod (Alaska Northwest, 1991), an expanded version of this title in a large format and with more text and photographs, includes more about mushers and the dogs whereas Brown sticks to the checkpoint history and people. Ruth Crisman's Racing the Iditarod Trail (Dillon, 1983) offers more details on the checkpoints, history, and volunteers but lacks the insights into the people along the trail. This is an attractive book, but the very small print may turn off some readers.
–Roz Goodman, Bering Strait School District Media Center, Unalakleet, AK
Copyright 1998 Reed Business Information, Inc.