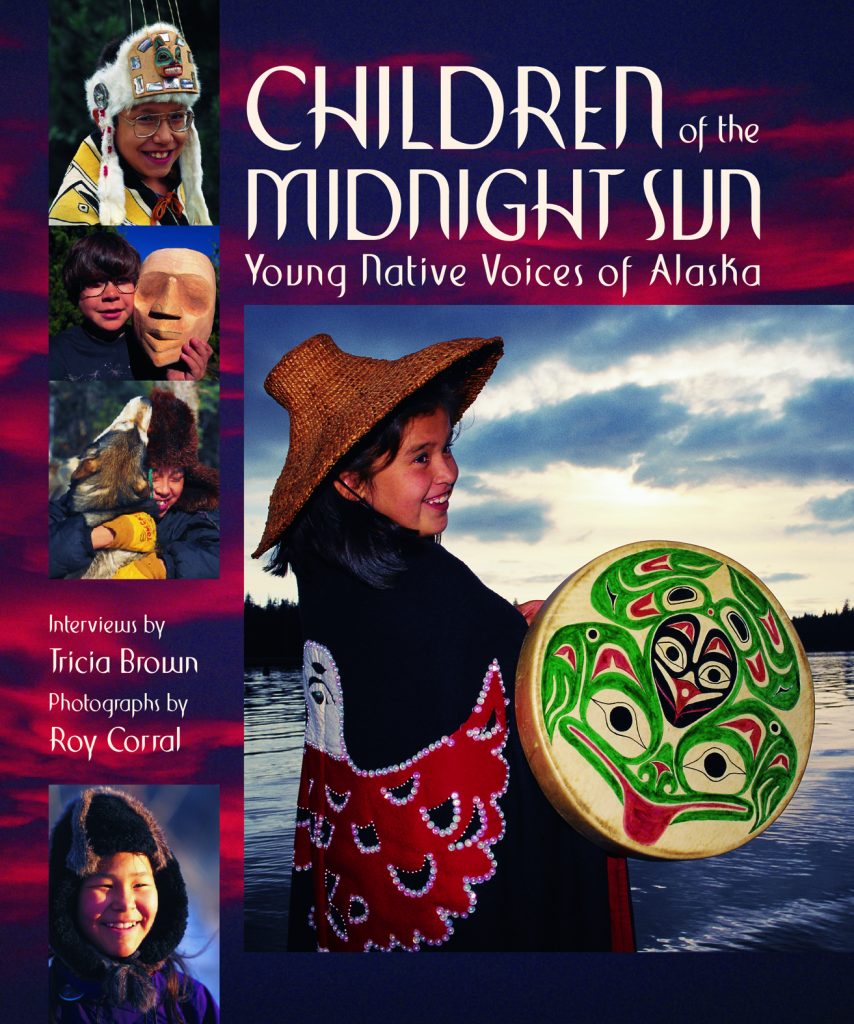 Profiles by Tricia Brown
Photographs by Roy Corral
Alaska Northwest Books, 1998 (hardcover): 2006 (softcover)
48 pages, paperback, 10 x 8.2 x .5 inches
ISBN-10: 0882406175 (softcover)
ISBN-13: 978-0882406176(softcover)
Ages 9-12
Now a children's classic, this 1998 book was honored by:
Benjamin Franklin Award, Juvenile Nonfiction
School Library Journal, Best Books
Children's Book Council/NSTA Notable
Parenting Magazine Book of the Year
For Native children, growing up in Alaska today means dwelling in a place where traditional practices sometimes mix oddly with modern conveniences. Children of the Midnight Sun explores the lives of eight Alaskan Native children, each representing a unique and ancient culture. This extraordinary book also looks at the critical role elders play in teaching the young Native traditions. Photographs and text present the experiences and way of life of Tlingit, Athabascan, Yup'ik, and other Native children in the villages, cities, and Bush areas of Alaska. 40 color photos.
Order your copy now! Click below on your favorite online bookseller:
Amazon                     Barnes & Noble               Indiebound
PRAISE for Children of the Midnight Sun
Publishers Weekly:
Corral's (My Denali) glorious photographs bring an intimacy to Brown's eight diverse profiles of Alaskan children, from northernmost Barrow to the islands of St. Paul and Prince of Wales to modernmost Anchorage. The range of landscapes and, consequently, living conditions alone makes for absorbing reading, but the essays tend to bog down in myriad facts. Brown's writing is strongest when she focuses on the details of daily life, as in the profile Russian Christmas on the Kuskokwim River. Unfortunately, the book's organization doesn't allow for any overarching conclusion among the recurring customs and cultural themes throughout the profiles, such as the recent renaissance across Alaska of Native arts and languages, and the impact of non-Native settlers on the region. Nonetheless, Corral's memorable images will draw readers in as his camera captures the meshing of modern and ancient worlds: an Inupiat Eskimo boy wears a cartoon character on a T-shirt as he cuts up pieces of whale skin and blubber for a snack and, clad in sneakers and blue jeans, a Haida Indian girl poses next to the row of totem poles that adorn her school grounds. Author and artist successfully communicate the common thread linking these eight lives: the importance of Native traditions, family bonds and the wisdom and experience of preceding generations as they navigate in modern times. Ages 6-up. (June)
From Barnes & Noble:
This handsome full-color pictorial offers glimpses into the lives of eight Native American Alaskan children, ranging in age from 9 to 13. Both the text and the photographs will reinforce young readers' sense of traditional Native culture and family bonds and offer them a new view of America.
From the Publisher:
Children was chosen as one of Parenting Magazine's "1998 Books of the Year" and School Library Journal's "Best Books of 1998."
Eight children from as many different cultures create a multilayered portrait of a place where past mingles with present. The winsome faces in the candid photos sparkle with personality. —School Library Journal's Best Books of 1998
2009 marked the 50th Anniversary of Alaska Northwest Books, which continues to take pride in producing books like Children of the Midnight Sun that bridge geography, cultures, and people to create better understanding.
School Library Journal:
(Gr 3-7) –This attractive and informative book gives insight into the lives of eight Native American Alaskan youngsters, ranging in age from 9 to 13. The native groups represented are Inupiat, Yup'ik, Athabascan, Aleut, Haida, Tlingit, Tsimshian, and Aleut-Caucasian. Three-page descriptive profiles of each youngster are accompanied by vivid full-color photos. Brown seems to have anticipated the kinds of things kids would want to ask about these Alaskans, given the chance, and offers readers a glimpse at eight distinct personalities and ways of life. Underlining issues regarding native subsistence and rural vs. urban inhabitants are touched upon, but this book primarily gives an honest look at what it is like to be a native child growing up in this state today. The only thing lacking is a phonetic pronunciation guide in the glossary. There are no other books on the market quite like this one. Carolyn Meyer's In a Different Light (S & S, 1996) explores the Yup'ik culture; Russ Kendall's Eskimo Boy (Scholastic, 1992) and Diane Hoyt-Goldsmith's Arctic Hunter (Holiday House, 1990) both focus on the Inupiat culture, while Hoyt-Goldsmith's Totem Pole (1990) and Potlatch (1997, both Holiday House) feature Tsimshian protagonists. All who read Children of the Midnight Sun will come away with an enriched view of the lives of young native Alaskans. A must buy for both school and public libraries. –Mollie Bynum, formerly at Chester Valley Elementary School, Anchorage, AK
Horn Book Magazine:
Inviting photographs of five young Alaskan Natives make up the cover of this book, which is a fresh balance of traditional and contemporary, particular and cross-cultural. In her survey of children from eight different Alaskan Native groups, Tricia Brown focuses not on "customs," but on daily life, with a welcome dollop of history that gives the portraits depth and context. In her profile of the Aleut girl Katiana Bourdukofsky, for example, Brown discusses the influence of the Russian Orthodox church as well as the little-known WWII relocation of many of the Pribilof island Aleuts to "an abandoned cannery in Southeast Alaska, where many fell ill and died from poor sanitation and disease." Elsewhere, a Tlingit boy describes clan relationships ("an Eagle can't marry an Eagle, and a Raven can't marry a Raven"); and an Inupiat boy describes life at the top of the world in Barrow: Doritos, fried whale, all-terrain vehicles, polar bears, and the ancient game of the blanket toss. The tone is upbeat and tourist-friendly, but the kids are distinct, and Roy Corral's many sharp color photos reveal both people and place unguarded. There's a good clear map, an informative glossary, and a reading list of titles from regional presses.
Kirkus Reviews:
Brown profiles eight children of Alaska's indigenous populations in their own environments–ocean, inland, and tundra–at home, school, and play, where they fish, carve totems, ride bikes, and dance at potlatches. Each child represents a distinct community of people, from the northernmost Inupiat to the coastal Tlingit and Haida. A short history of each culture is included along with everyday activities, interests, and traditions. Survival skills are a way of life for many, in sharp contrast to the supermarket societies of the lower 48. Every child is linked to his or her ancestry through grandparents or other elders who pass on the tools, customs, and trades of a vanishing way of life, from catching, cleaning, and drying fish to killing moose and building emergency shelters. Young people also participate in the traditional dances and ceremonies, and more. The book acknowledges the drastic changes of the last few decades, with the advent of satellite television, access to transportation, and the Internet, but focuses on the preservation or reawakening of culture through each child. Full-color photographs contrast images to convey life in a commercial fishing village or in Anchorage's Town Square, amid the flowering tundra or perched on a seal-strewn beach. (glossary, further reading) (Nonfiction. 7-12)