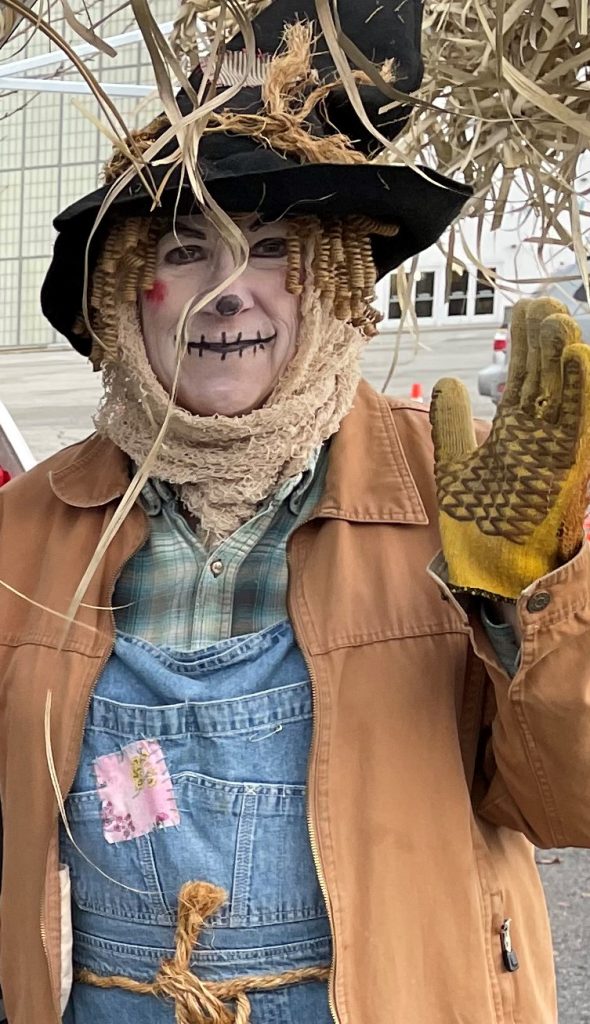 Hey! It's almost time for Trick-or-Treat Street in downtown Anchorage! If you're headed down on Saturday, Oct. 29, be sure to swing by the 4th Avenue Market Place, where I'll be reading my children's books while showing movies of their illustrations. I'll be reading every twenty minutes or so from noon to 4:00 p.m. in the Port View Room. Come and find me. I'll be the talking scarecrow!
I grew up in a time when door-to-door trick-or-treating was one of the social highlights of a kid's year. I'm so old that I watched It's the Great Pumpkin, Charlie Brown when it was new! With help from our creative Mom, we came up with our own costumes, like "witch," or "hobo," or "ghost" (note the absence of Disney-copyrighted characters). We held out pillowcases for goodies. Afterward, my brother and I dumped out our takes on the living room carpet and negotiated trades. Some mothers actually made and wrapped cupcakes, caramel apples, or popcorn balls. And not only were they safe for consumption, they were delicious. The whole neighborhood was lit up for the lanes of foot traffic. It really was that heady and innocent and fun.
Thank goodness for groups like the Anchorage Downtown Partnership and other business folks that keep innocence alive for this generation of children. Treat-or-Treat Street is more than a single street of merchants handing out candy. From C to L Streets, including 4th, 5th, and 6th Avenues, there'll be lots of activities planned (and candy, too!). Here's a partial list:
Skinny Raven Frightening 4K Run & Costume Contest
Visit Anchorage Haunted Log Cabin

Cookie Decorating at the Hotel Captain Cook

Join the Alaska MS Center for their annual zombie flash mob, goodies, and more!

APDEA Child Kinderprint ID in 4th Avenue Market Place

Anchorage Fire Department Haunted Fire Truck

Anchorage Police Department Cars & Candy

Ring the Bell and get a Sneak Peek inside the Anchorage Trolley

Free Kid-sized Hot Chocolate for kids in costume!

Author Tricia Brown readings in the Port View room of the Market Place

Store Discounts
Yes, I'll have copies of all my books available for purchase, too. See you there!