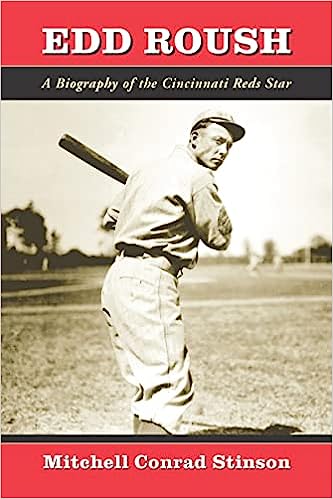 A New Book in the Family!
EDD ROUSH: A Biography of the Cincinnati Reds Star
ISBN 978-0-7864-4407-6
McFarland, April 2010.
Here's a new book to be proud of, even though I didn't write it. Still, I'm compelled to spread the word, because this is an excellent selection for your favorite baseball fanatic, written by my favorite baseball fanatic, my award-winning sportswriter cousin, Mitchel Conrad Stinson. 
Released by McFarland, this is the biography of the deadball batting king and Baseball Hall of Famer, Edd Roush. The publisher writes, "The story] centers on the events of the 1919 Black Sox World Series, but covers Roush's life in full. Born in Indiana, Roush would eventually receive two National League batting titles and become a member of the Baseball Hall of Fame in 1962. The work contains interviews with Roush and as well as a large collection of photos, many from the Roush family collection."
Many years ago, when Mitchell was still a young teenager, he had the good fortune to meet Roush in person and wisely brought along his tape recorder when he interviewed the baseball great. When Mitchell grew up, he entered journalism and his career has taken him to newspapers in Indiana, Guam, Kentucky, and Alaska. Speaking of Alaska, Mitchell was a reporter on the Wasilla newspaper, The Frontiersman, when Sarah Palin was just entering local politics.
 I've got my copy of Edd Roush already, inscribed by a man who knows I prefer following the mushing circuit to major league sports. Nonetheless, he scratched this note inside the cover: "If you can't get into it, just insert 'dog sledding' every time you see the word 'baseball.' Both center around smelly, scruffy teammates who scratch themselves in public. So it's not a stretch."
Yeah, he's got a great sense of humor, too.
 Click here to find Mitchell's book on Amazon.