In July 2022, I was in Fairbanks for Golden Days, the city's celebration of its gold-rush roots. I try to get up there every year, and I'll never forget how the Grande Parade of 1978 made us feel like our new hometown was throwing a welcome party. That's when I first saw Irene Sherman bicycling her adult-sized three-wheeled bike in the parade, layered up in secondhand clothes, and topped with a broad-rimmed bonnet. The answer: Almost there!
(Erick Hill/1988 ADN photo)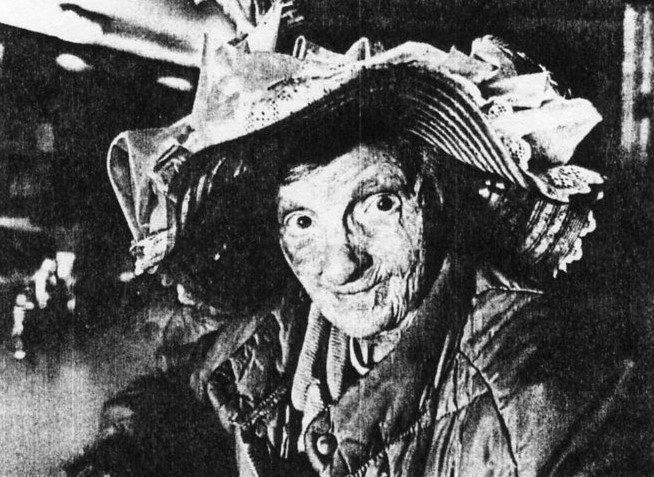 I'd learn that Irene dressed like that pretty much every day, as she marched around Fairbanks and shouted out her greetings and enjoyed her beer stops. I always wondered about her family, and in time I would learn more.
You may know that I've spent the last year working on a creative nonfiction book about Irene Sherman, who called herself the Queen of Fairbanks. As I wrote, my own stories were interwoven with hers, sometimes decades apart, sometimes very similar. I've also included narrative about how I researched her story, digging up the long-lost details about Irene's life.
During the July trip up to Fairbanks, I was invited to share some of my Irene research at a couple of venues, both with appreciative audiences–many of whom knew and remembered Irene well. Still, they all learned new, intriguing facts about the Queen. My talk was titled "I Think There Were Seven of Us," and subtitled "Untold Stories of the Queen of Fairbanks." In it, I introduced the audience to Irene's siblings that she'd never met, when and where they were born, and what had happened to them. I recounted the true stories of how and why she was burned so badly as a child, and what happened to her in the years when she was a ward of the Territory of Alaska.
After months of deep research and amazing contributions from her old friends, I'm pleased to say the book is done. (But don't rush to Barnes & Noble yet.) In fact, in advance of my trip in July, an advance piece in the Fairbanks Daily News-Miner invited folks to my speaking engagements and included some background on Irene. Unfortunately, readers concluded that I'd have Irene books for sale, ready to sign. Well, no. Over and over, in emails and in person, I apologized that the book was still an unpublished manuscript. Still, my heart was stirred to hear from so many people, all of them eager readers.
"I've still got a couple more chapters to write," I said repeatedly. "I'm sure you'll see notice when we have a real book."
A few days ago, on October 1, I met with an editor who is interested in the book, and our talks are beginning. At the Alaska Writer's Guild conference that weekend, I was awarded "Most Promising Manuscript" from faculty members. For me, it was confirmation that the last year of travel and writing was well-spent.
So, what's next? Traditional publishing takes a long time. But naturally, I want this tribute to the Queen to land in just the right hands, so I will be patient and hope you will, too. I guarantee that when we have a release date, I'll be broadcasting it widely and loudly!
Meanwhile, thanks for your kind notes and words of support.