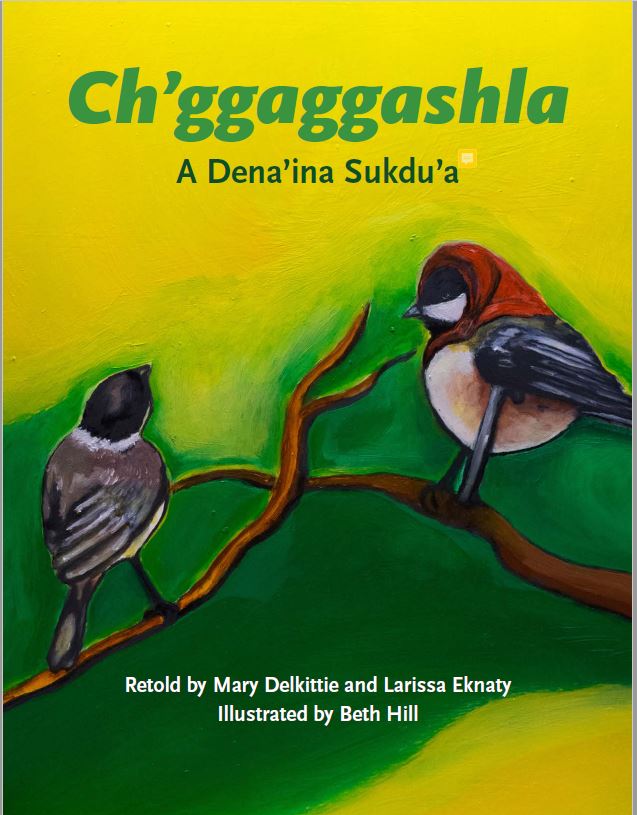 I love writing and editing books, but another area of mine is book development, when I get to coordinate all aspects of putting together a quality book written by someone else. I don't do many by choice, because my own work keeps me occupied. But once in a while an exceptional book development project comes along that I can't resist.
Early this summer, I said yes to this grant-funded project from the Lake and Peninsula School District. They had a vision for a book specifically for the children who are learning to speak their Dena'ina language region in southwestern Alaska—around the Lake Clark and Lake Iliamna area. They've also created a language app to support their work in getting more kids to learn the language of their ancestors. This book is full of Dena'ina words with an English translation on the first use of a word. Afterward, just the Native word appears in the text. I'm learning some things myself!
In this text, Dena'ina elder Mary Delkittie and Larissa Eknaty were the latest storytellers in a chain reaching back for uncountable generations. This ancient story (or sukdu) is known as Ch'ggaggashla, which in English means "Little Chickadee." His story is an adventure with kind of grisly parts—reminding me of some original Grimm Brothers stories.
My role began when I was contacted by Amber Kresl, District Early Learning Coordinator & Reading Specialist for the school district based in King Salmon, Alaska. They had targeted their CHILD grant money to create a book. CHILD stands for "Cultural Heritage Improves Learning & Development." The funds came through the Office of Elementary & Secondary Education: Alaska Native Education Program.
With the grant money, Amber Kresl contracted with a local artist to paint the illustrations and sought someone like me to help pull the pieces together into a book. Beth Hill was both illustrator and cultural coordinator. She also reviewed our work with the elders before it went to press to ensure it passed muster. It did. Ch'ggaggashla is on the press today and soon each child in the district will get a free 32-page picture book. It has no ISBN number because it's not for sale—free only for their kids.
In the old days, this kind of project would have been called a vanity or corporate project. Now it's an "indy." There are more and more of independent publishers and access to publishing has given us many more voices. I'm glad they called me, so I could use my skills and contacts to make it the best book possible. Thank you, Amber, for the invitation, to Beth, for your gorgeous art and direction on cultural matters. And thank you to Kelley Dodd, for your design work, and to the folks at Friesens in Canada for putting this very short run on your presses. It looks like a first-class "real" book for some first-class kids in Bush Alaska!
Thankful to be a part of it!
P.S. For you who are following, I'm still in progress writing my Rasmuson project book about Irene Sherman of Fairbanks. I'm going to start showing the manuscript to publishers soon. Great feedback from early readers and those who attended my two history talks in Fairbanks during Golden Days. Many came to each event thinking they could buy the book there. I hated to disappoint, but it's still in progress. The many queries have resulted in a good way to measure interest, and I'm glad to pass that along to prospective publishers, too. Stay tuned…