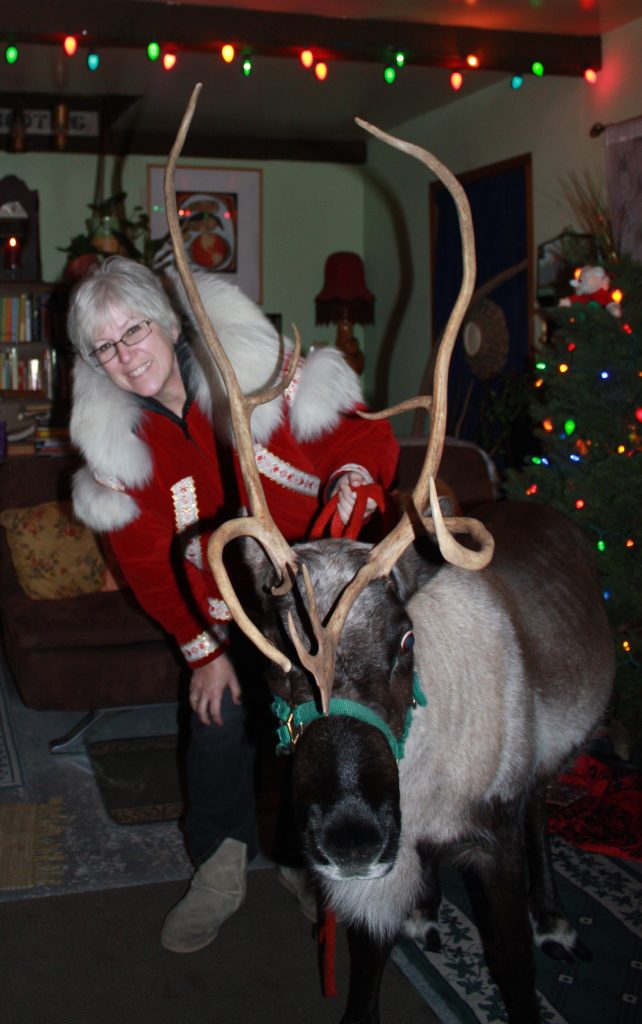 -20 IN FAIRBANKS
But the temps didn't seem to bother Coco at all. She and her handler Opal Welton came over to my sister's place for a visit, and we took turns taking pictures, of course! Coco started digging in the snow and snacked on some of that tasty grass.
The experience turned bizarre and wonderful when Coco came into the house for a walkabout. The reindeer knew just where the ends of her antlers were, and nothing was knocked over. Opal said just make sure she doesn't see any mirrors or her window reflection, or Coco's natural curiosity might get a little too aggressive.
Sometimes Opal brings Coco for school visits. This reindeer is tame and smaller than you might imagine. She just hops into the minivan, and she's ready to go.
Did you know that reindeer ankles (and caribou's, of course) make a fascinating clicking sound with each step? I could hear Coco's clicking when she was just walking around the kitchen and living room. Those who've been fortunate to witness a caribou migration are blown away by the sound. For our part, we just sing, "Up on the house top, click-click-click!"