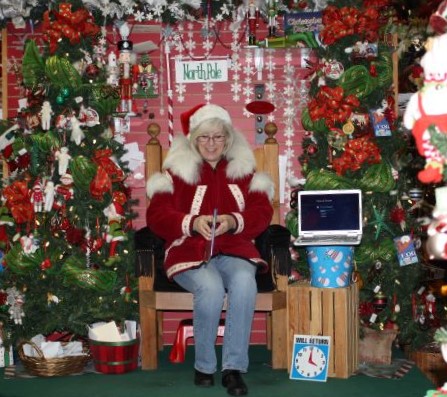 HELLO, SANTA CLAUS HOUSE!
Last week I had a fruitful time visiting three elementary schools in the Fairbanks/North Pole area, I and read Alaskan Night Before Christmas to more than a thousand children during three busy days. The kids needed very little prodding to get them into the spirit of the season, and a few assemblies burst into "Jingle Bells" at the end of my presentation. What a fun time!
On Tuesday afternoon, I stopped by Santa Claus House, where I bought a few special gifts for the family, and paused for a photo with Santa himself. While the two of us smiled for the camera, the big guy was talking through his teeth, asking about my parka and saying his wife would be needing a new one in about a year. "It's a Laura Wright Parky," I answered, and told him how and where to get one for his lady. I get more comments on that coat! And having kids mistake me as Mrs. Santa is a treat, too. But sometimes it backfires.
On this trip to Fairbanks, I joined my sister for her Christmas-tree shopping. We were leaving Alaska Feed as a father and son were coming in. The dad had already entered the store when the little boy stopped and gaped at me in my parka. He said in a hushed voice, "Mrs. Santa!" I didn't answer, "No, no, that's not me!" Instead, I just asked, "Have you been good?" Instantly, I wished I hadn't. The boy's smile disappeared and his eyes dropped to the floor. ("Oh, no!" I thought. "Why did I say anything!?") And then the tender-hearted child was gone inside the store. I wish I could have told him that I know he's a good boy, because only a good boy would have responded that way. But my opportunity had passed.
I hope you and yours have a wonderful Christmas, surrounded by family and thankful for the best Christmas gift ever: God's Son come in the flesh.