As I write, several schools in Southcentral Alaska are closed for the year and administrators and educators have worked hard to rearrange student populations at other schools. The major earthquake that shook Anchorage on November 30 happened while I was 400 miles away, visiting schools farther north in Fairbanks. While I was calmly setting up for a day of speaking to kids at Weller Elementary, back in Anchorage, the entire region was shaking. After all, we do sit on the northernmost edge of the Pacific Ring of Fire.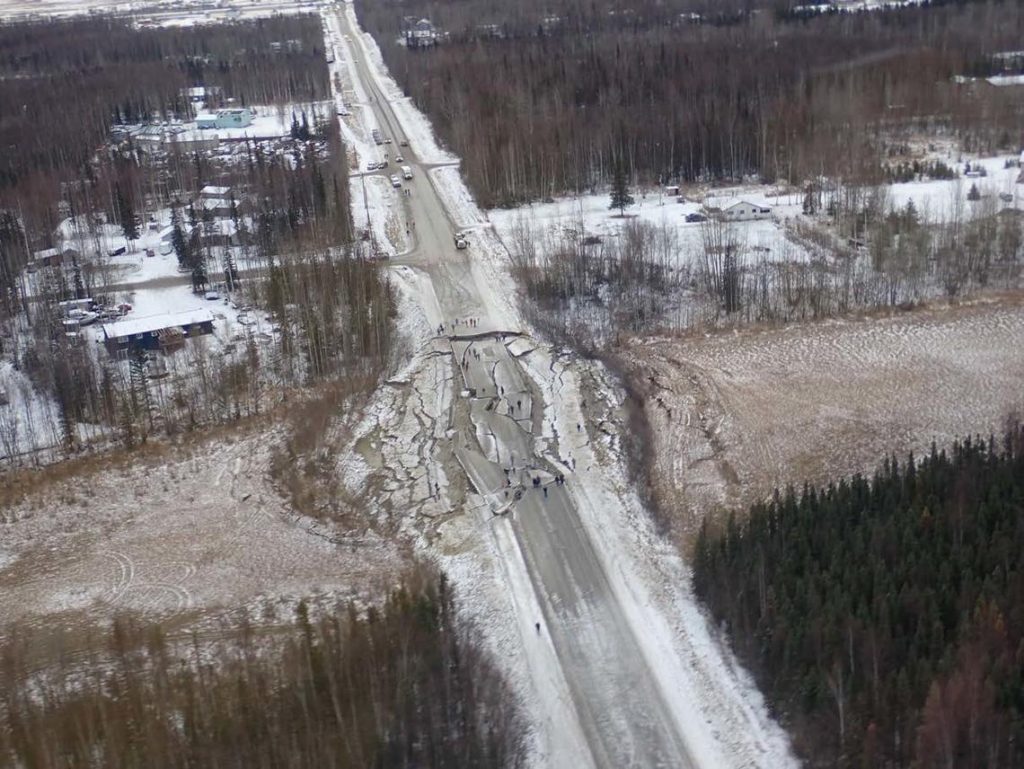 Suddenly, I got a text from my husband saying his building had been evacuated and he was hurrying home to our granddaughter. Our power was out (so our well doesn't work either), and officials were urging people to turn off their natural gas. My family gathered at my brother's place, where there was a generator. All day long, my phone was dinging with friends and family checking in. The report on damage at our house was minimal–just a whole lot of picking up, clean-up waiting for me, as everything on top shelves made a jump.
I was scheduled to fly home that evening, but a temporary airport closure and further flight delays changed that plan. When I was leaving Fairbanks the next day, the airport gift shop clerk seemed surprised that I didn't feel the earthquake. The antique airplane that hangs above travelers at one end of a concourse had been swaying in the air during the quake, she said. She had been at her barrista job at the time, and was trying to keep everything from falling off the shelves. More than 400 miles away from the epicenter.
Strong aftershocks arrived regularly that night and for days afterward, and everybody has been edgy for the last couple of weeks. Even something as simple as the dog shifting her spot in the car's back seat can make my heart leap. But likewise we are feeling thankful. No one died, and most of what was broken can be fixed . . . except perhaps for ragged nerves.
Thank you all for thinking of Alaska, and for your prayers. The Alaska Earthquake Center website is an excellent resource for learning about how common earthquakes are in these parts. You can view a list of the latest, their times, depths, and magnitudes.