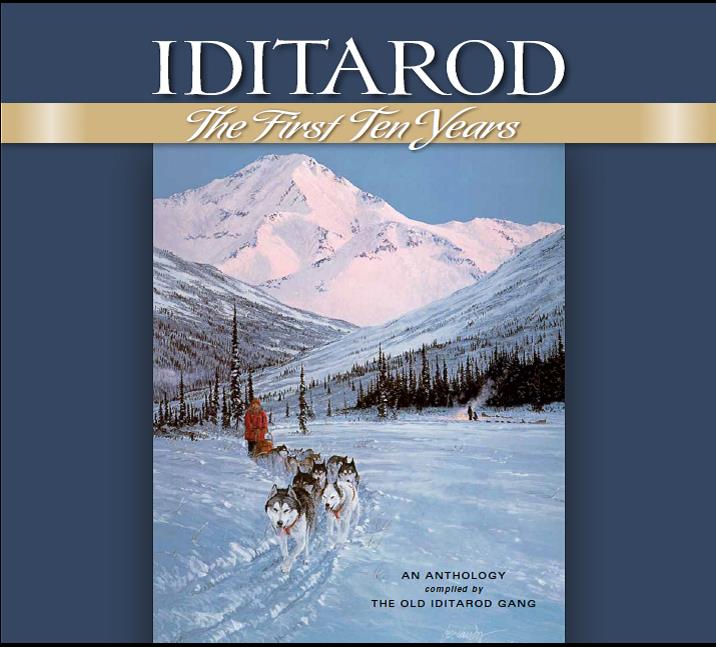 An Anthology Compiled and Written by the Old Iditarod Gang (Al Crane, Jo Crane, Frank Flavin, Frank Gerjevic, Raine Hall, Rawlins, Gail Phillips, Walt Phillips, Rob Stapleton, Jon Van Zyle, Jona Van Zyle, Anne Patch Winters)
Edited by Tricia Brown
Race dog teams a thousand miles? It had never been done before thirty-four teams set out against variables still unknown in 1973. In each race that followed, the competitors–Alaska Natives and non-Natives, city dwellers and "Bush rats" tested Mother Nature and their own limitations, supported by a legion of volunteers, organizers, and fans. Those who've lived it will never forget it.
Those gritty early days appear in the pages of Iditarod: The First Ten Years, a collection of first-person stories, along with phenomenal art and photography, from those who experienced the decade . . . before high-tech deep-cold gear, before GPS, before ultra-light sleds with seats. Race times were slower, certainly, but the experience was no less intense. Meet the mushers, the dogs, the volunteers, and the adventurous idea people who launched Alaska's most iconic event.
More than four decades later, the Last Great Race still inspires possibility, but its birth and baby steps remain unrivaled.
"The Old Gang has most certainly done it. What a herculean, well-executed endeavor. It will not surprise me if this huge compilation of individually unique experiences by the Iditarod's first decade participants becomes a stand-alone Northland classic."
— Dan Seavey
* 424 pages
* 416 historic full-color and black-and-white photos by race photographers Richard Burmeister, Rob Stapleton, Frank Flavin, Jim Brown, Jeff Schultz, and many others
* 95 pieces of original art by Official Iditarod Artist Jon Van Zyle and others
ISBN 0990674800 hardbound with dust jacket
ISBN 9780990674801 deluxe leather-bound edition
Released: December 15, 2014
This is a giant of a hardbound book — weighing in at 7 pounds.
Buy one now!
To order a copy from Iditarod, click here.