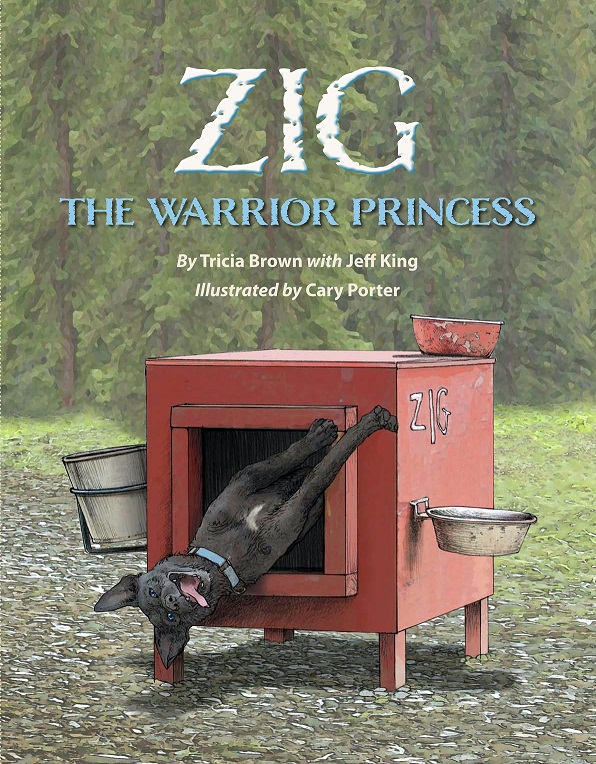 By Tricia Brown with Jeff King
Illustrated by Cary Porter
Husky Homestead Press, June 2016
32 pages, softbound, $10.99
ISBN 978-0-692-68607-2
Zig is like no other dog–you can tell from one glance at that cover! This sweet girl is the princess of the dog yard in this romping story about a hard-working, well-loved sled dog at Jeff King's Husky Homestead. Located in the heart of Alaska near the foot of Denali, the Husky Homestead is home to dozens of talented sled dogs, but Zig is a favorite. Spoiled? Never! Hear Zig's story in her own voice as she remembers puppyhood, training with the "big dogs," and how she discovered she was born to be a WARRIOR, not just a PRINCESS.
JEFF KING is one of mushing's best-known competitors and a four-time champion of the Iditarod Trail Sled Dog Race® who trains his canine athletes year-round. Each summer, thousands of visitors come to the Husky Homestead to meet the musher, cuddle puppies, watch the sled dogs in action, and hear amazing trail stories.
You may find Tricia signing copies of ZIG the Warrior Princess in school visits or other book events, but otherwise, it is available online through the Husky Homestead website. To get your copies of ZIG, click here. Jeff would be glad to sign them if you ask.
Follow the careers of Jeff King, Zig, and the whole team at Zig's Facebook page here.
Kids love hearing about Zig during school visits. Here are some samples from Zig's fan mailbag: