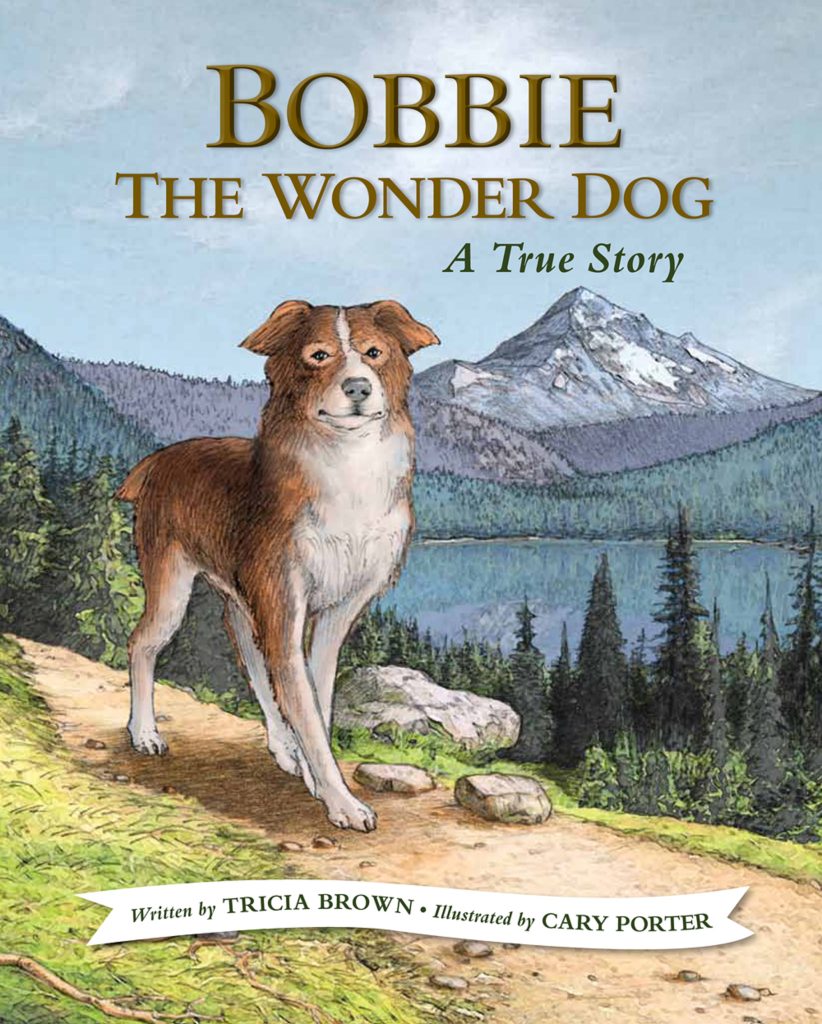 By Tricia Brown
Illustrated by Cary Porter
WestWinds Press, April 2016
Hardbound, 32 pages, $16.99
ISBN-10: 1943328366
ISBN-13: 978-1943328369
Softbound, April 2021
ISBN-10: 1513277383
ISBN-13: 978-1513277387
When Frank and Elizabeth Brazier made a cross-country trip by "auto-trails" in August 1923, they brought along their favorite pet, a collie mix named Bobbie. Their pup went missing during their travels, and they found themselves driving back home without him, brokenhearted. Six months to the day after Bobbie was lost in Indiana, he walked down the main street of Silverton, Oregon, rail-thin, pads bleeding, and nails worn down to nubs. But he was overjoyed to reunite with his family. What a sensation he created, first in the local paper, then in the Oregonian, and finally, his story swept across the country. This dog had walked, alone, for nearly 3,000 miles, crossing the Rocky Mountains in the dead of winter! Bobbie's story went viral, and he became one of the most famous dogs of his time, even making it into "Ripley's Believe It or Not!" A story of devotion, yes. But it's also a story of how an ordinary dog (or child) can do the extraordinary.
From Publishers Weekly, April 2016:
Brown (Charlie and the Blanket Toss) teams up with newcomer Porter to recount the story of a dog's 2,800-mile journey to reunite with its "people" in 1923. Frank and Elizabeth Brazier initially purchased Bobbie, a collie, as a farm dog; despite injuries suffered from run-ins with a horse and a tractor, Bobbie remained devoted to the family, even after they moved into the restaurant business, walking into town from the farm on his own: "Days later, Bobbie ambled into their restaurant, as if to say, 'Hey, didn't you forget somebody?' " After the Braziers drive from Oregon to their old Indiana hometown, Bobbie gets lost, chased off by wild dogs. Porter's detailed and dramatically lit paintings trace Bobbie's difficult solo trip back to Oregon, crossing through snowy forests and rain-soaked fields. An end note reveals additional details about Bobbie's remarkable life (in addition to nationwide fame, Bobbie appeared in a silent film and fathered a litter of 16 male puppies), fleshing out a quietly inspiring story that's just as engrossing now as it was some 90 years ago. Ages 4–8. (Apr.)
From Kirkus Reviews:
A farm dog named Bobbie finds his way back home from Indiana to Oregon in this true story from the 1920s.
When Bobbie's owners take a driving vacation to visit relatives in Indiana, they take their beloved dog along on the trip. Bobbie is chased by a pack of dogs and becomes lost in an unfamiliar town, and though the owners and friends search for Bobbie, he can't be found. The brokenhearted owners return to Oregon, and six months later, their dirty, injured dog limps back into his hometown. This long-for-the-format story is both interesting and informative, with a good deal of well-researched period details and skillful inclusion of both emotions and drama in the unfolding story. Finely detailed, soft-focus illustrations with a period feel capture Bobbie's personality and his difficult journey through a variety of perspectives. Thoughtful art direction shows the owners and Bobbie moving from left to right as they head east, but Bobbie then moves from right to left in the illustrations showing his return trip to the west. A helpful map and an extensive author's note are pleasing additions, including a photograph of the real Bobbie and his owner.
This touching tale has a wide audience, from preschoolers to young readers who like true animal stories to older, reluctant readers who need a strong story with an emotional hook. Dog lovers of any age will find Bobbie and his amazing journey irresistible. (Informational picture book. 4-10)
Press and Promotion:
Publisher's Weekly, Wonder Dog featured in New Picture Book
The Oregonian, Bobbie, the Wonder Dog
Advise from a Caterpillar, Caterpillar Review
Spot Magazine, Bobbie, the Wonder Dog
Read on or click here to read how others were touched by Bobbie's story.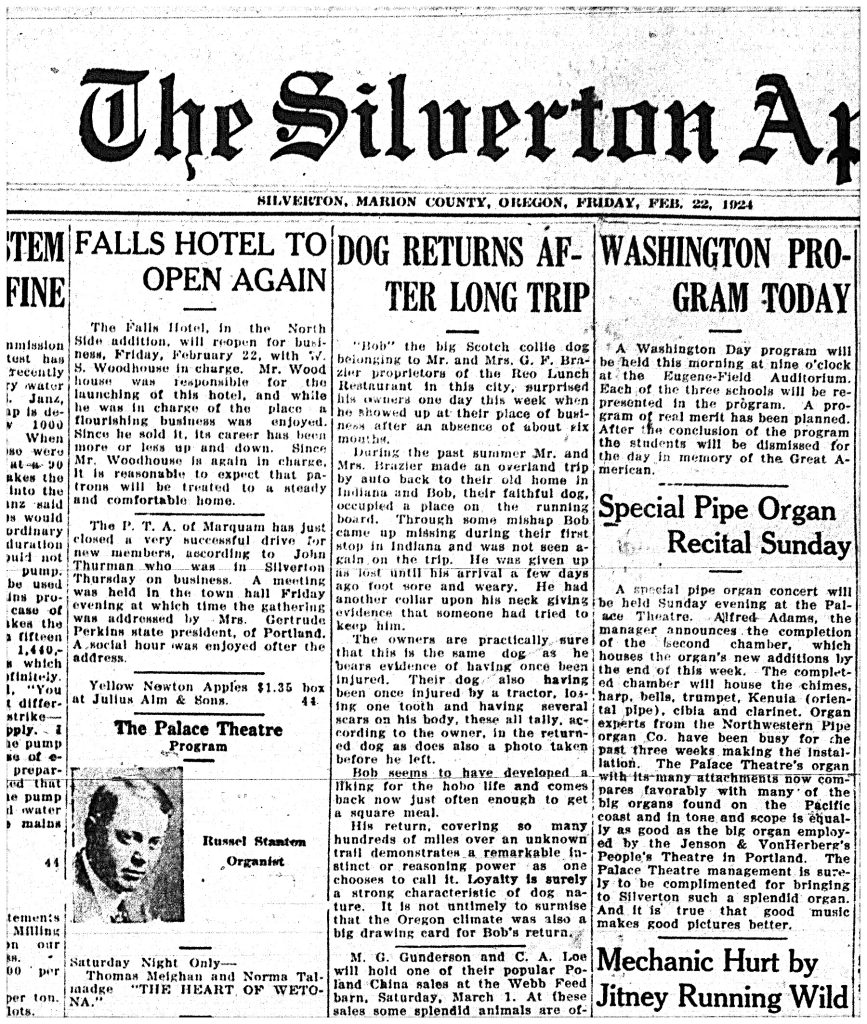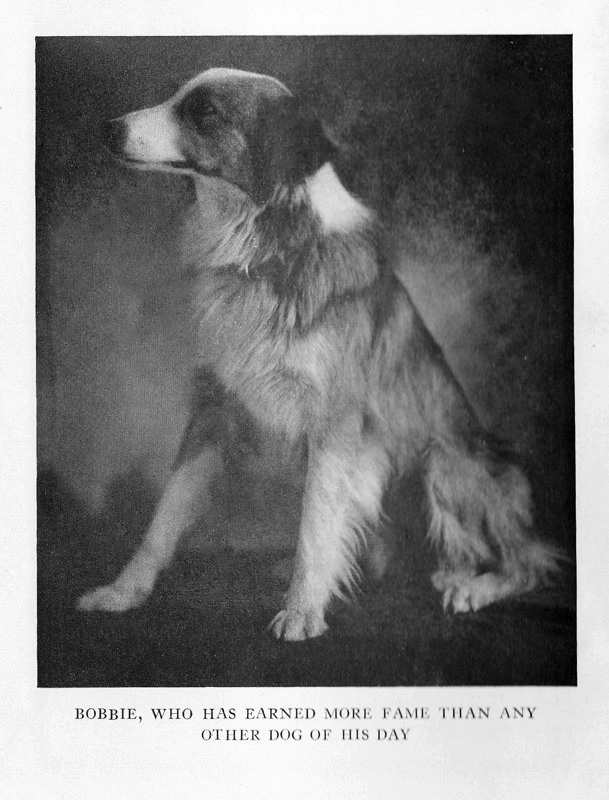 Order your copy now!
Click below for your favorite online bookseller:
Amazon Barnes & Noble Indiebound (To buy locally)
Praise for Bobbie the Wonder Dog
"Brown takes a sensational news story and focuses on the devotion of one remarkable dog to bring this amazing story to young readers for the first time. Porter's illustrations combine rich colors and vintage details to bring Bobbie to life on the pages through all of his adventures and hardships. A dog story as incredible now as it was nearly a century ago, gives 'Bobbie the Wonder Dog' all the makings of a timeless classic."
–Peggy Tibbits, Midwest Book Review